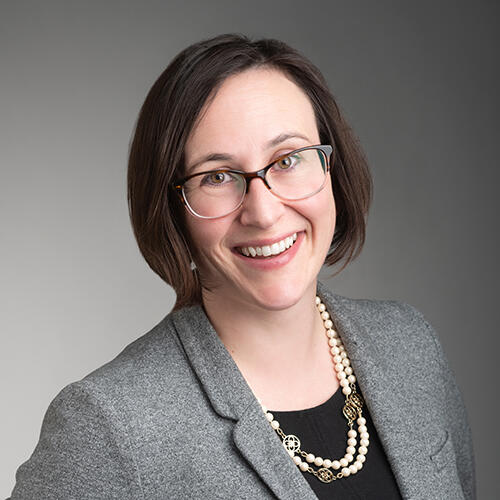 Boston
800 Boylston St.
26th Floor
Boston, MA 02199

Massachusetts
Rhode Island
J.D., cum laude, New England Law Boston
B.A., cum laude, Connecticut College
National University of Ireland, Irish Centre for Human Rights
Overview
Meg Nash is a partner at Vicente LLP, where her practice focuses on guiding clients through the state licensing application process, land use and zoning requirements, and regulatory and compliance matters.
A consummate team player, Meg enjoys collaborating with cannabis entrepreneurs and other professionals involved in the licensing process—including engineers, architects, and local officials—in order to gain an in-depth understanding of her clients' ambitions. These collaborative relationships with clients empower her to provide strategic legal advice and regulatory guidance which helps her clients achieve their goals.
Since 2021, Meg has been recognized by her peers in the "Best Lawyers: Ones to Watch" list for her work in land use and zoning law and named one of "Boston's Top Lawyers" by Boston magazine.
Prior to joining Vicente LLP, Meg's practice focused on civil litigation defense in the areas of professional liability and insurance coverage, with a focus on the defense of attorneys, law firms, and real estate professionals. She also has experience in consumer financial services defense, having represented lenders and loan servicers in all stages of litigation.
Meg attended New England School of Law in Boston, where she was a New England Scholar.
Publications
Insights
Co-author, "Maryland Cannabis Business License Application Submission Guide," November 6, 2023
Co-author, "Maryland Cannabis Business Licensing: Upcoming Deadlines for Social Equity Applicants," November 1, 2023
Author, "Maryland Releases New Cannabis License Application Information," October 24, 2023
Author, "Maryland Cannabis Administration Releases Additional Information Related to the Upcoming Social Equity Cannabis Business Licensing Round," September 8, 2023
Co-author, "Maryland Cannabis Administration Releases Social Equity Verification Tool in Preparation for Cannabis Business Licensing," September 1, 2023
Author, "Rhode Island Cannabis Update: Cannabis Commission Confirmed and New Retail Advertising Guidelines Released," June 28, 2023
Co-author, "Cannabis License Types and Timelines in Maryland Adult-Use Regulation Bill Awaiting Governor's Signature," April 12, 2023
Co-author, "Maryland Cannabis Reform: Amendments to House Bill 556 and Projected Impacts on Licensing Conversion and Future Licensing Rounds," March 16, 2023
Co-author, "Maryland Cannabis Reform: Conversion to Adult Use for Existing Medical Licensees and New Licensing Opportunities," February 6, 2023

Co-author, "How to Run a Cannabis Dispensary in New York: Guidance for New York Adult-Use Retail Dispensaries," November 3, 2022

Author, "Rhode Island Adult Use Cannabis Sales on the Horizon with Release of Hybrid Cultivation License Applications," July 26, 2022

Author, "Rhode Island Legalizes Cannabis: Key Provisions of the 'Rhode Island Cannabis Act,'" May 26, 2022

Co-author, "New Massachusetts Medical and Adult-Use Marijuana Regulations," November 1, 2019
External Publications
Co-author, "What Cannabis Employers Need to Know About COVID-19" Marijuana Business Magazine, May 5, 2020

Author, "Insuring Cannabis: Evaluating Risk During Prohibition," In-House Defense Quarterly, Spring 2018

Co-author, "Federal Prohibition of Marijuana Restricts Lenders Ability to Issue Loans to Borrowers Employed in Marijuana Industry," Consumer Crossroads, April 9, 2018

Co-author, "UPDATE: Massachusetts Medical Marijuana Patient Can Sue Employer for Discrimination," Employment Law Observer, July 18, 2017

Co-author, "Rhode Island Superior Court Decision Holds that Employers Cannot Refuse to Hire Medical Marijuana Cardholders," Employment Law Observer, July 18, 2017

Co-author, "Advising Clients Regarding Criminal Conduct—Medical or Recreational Marijuana Industry," Lawyers for the Profession, June 20, 2017

Co-author, "May Employers Weed Out Medical Marijuana Patients Through Drug Testing? Massachusetts Supreme Judicial Court Will Weigh In," Employment Law Observer, April 18, 2017
Events
Speaker, Vicente LLP, "Maryland Cannabis Business Licensing Workshop & Networking Event," Baltimore, October 16, 2023
Speaker, The New York Cannabis & Hemp Convention, "So, You Want to Apply for a NY Cannabis License? Start Here!," Albany, September 29, 2023
Speaker, Vicente LLP, "Washington, DC Cannabis Business Licensing Update," Online, August 24, 2023
Speaker, Vicente LLP, "Maryland Cannabis Licensing: What We Know, What We're Waiting For, and How to Get Started Now," Online, July 19, 2023
Speaker, Vicente LLP, "Maryland Cannabis Legalization: Implementation & Opportunities," Online, May 04, 2023
Speaker, New England Cannabis Convention, "Ready, Set, Grow! Expanding Your Massachusetts Brand Across the Northeast," Boston, March 11, 2023
Speaker, Coronavirus and Cannabis Webinar, "COVID-19 Changes and Challenges for Employers with Littler Mendelson," Webinar, April 01, 2020
Speaker, NCIA Northeast , "Compliance is Critical: How to Avoid a Costly Mistake," Boston, February 19, 2020
Speaker, MCLE 21st Annual Paralegal Conference, "Legalized Cannabis: Issue Spotting in the Context of Housing and Employment Law," Boston, June 11, 2019
Speaker, Hinshaw University, "Don't Get Smoked! Risk Management in the Age of (Il)legal Cannabis," Boston, August 22, 2018
Speaker, National Business Institute, "Going Paperless and Beyond: Attorney's Guide to a Mobile Law Practice," Boston, April 12, 2017