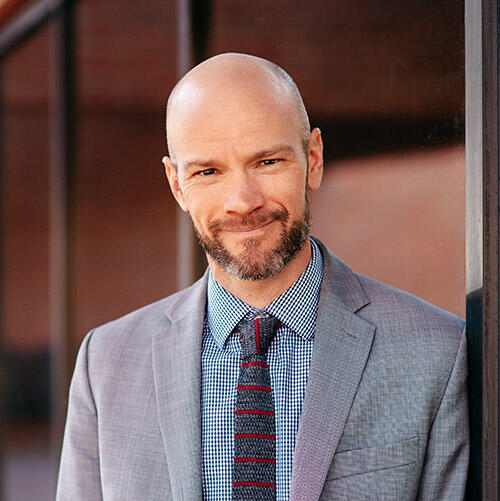 Denver
455 Sherman St.
Suite 390
Denver, CO 80203

J.D., University of Denver Sturm College of Law
B.A., Grinnell College
Overview
Vicente LLP Founding Partner Brian Vicente has been helping marijuana businesses obtain state and local licenses since the inception of the regulated cannabis industry — an industry he has played a significant role in shaping. He has also advised national, state, and local government officials in the development of regulated cannabis markets across the country and around the world, including in Uruguay, the first country in the world to legalize and regulate marijuana for adult use. In late 2018, newly elected Colorado Gov. Jared Polis selected Brian to serve as a member of his gubernatorial transition team, where he sat on the Economic Development and Labor Committee.
Brian was a lead drafter of Colorado's historic legalization initiative, Amendment 64, and he co-directed the successful campaign in support of it. He also served as chair of the Committee for Responsible Regulation, which coordinated the successful campaign to implement statewide excise and sales taxes on adult-use marijuana in Colorado. Previously, Brian served as executive director of Sensible Colorado, a leading nonprofit organization advocating for medical marijuana patients and providers in Colorado. During this time, he played an integral role in litigation that opened the door for medical cannabis dispensaries to open in the state, as well as the legislative process that resulted in Colorado becoming the first state to establish a regulated system of medical cannabis production and distribution.
Since 2020, Chambers and Partners USA has ranked Brian as one of the top cannabis attorneys in the nation. Additionally, he was recognized by Best Lawyers© from 2021-2024, named a "Cannabis Law Trailblazer" by the National Law Journal in 2018, and has been included in 5280 magazine's list of "Denver's Top Lawyers" every year since 2015. Adding to his impressive list of recognitions, in 2022 he was listed as one of High Times' "Top 100 Influential People in Cannabis" and was recognized as one of Law360's Cannabis MVPs of 2022. Brian has conducted more than 1,000 interviews regarding marijuana policy for national, state, and local media outlets, and he was recognized by The Guardian as "the (cannabis) industry's de facto spokesman."
Brian currently serves as president of the National Hispanic Cannabis Council, a purpose-driven nonprofit organization he helped found in 2021. In 2010, Brian was elected as the first board chair of the National Cannabis Industry Association, which now represents nearly 2,000 member businesses and tens of thousands of cannabis professionals. He is also a member of the DanceSafe Advisory Council, and previously served on the boards of Sensible Colorado, the Harm Reduction Action Center, and the SAFER Voter Education Fund.
Brian received a full merit scholarship to attend the University of Denver Sturm College of Law, during which time he clerked for outspoken social critic, Senior U.S. District Judge John L. Kane.
Experience
Leadership & Community Involvement
Founding Board Member and President, National Hispanic Cannabis Council
Member, Economic Development and Labor Committee, Governor Jared Polis Transition Team, 2019
Member, Denver City Community Equity Committee, 2019
Member, Advisory Council, DanceSafe
Board Member, Harm Reduction Action Coalition
Executive Director and Board Member, Sensible Colorado
Board Member, SAFER Voter Education Fund
Co-Director, Colorado Amendment 64 Initiative, 2012
Board Chair, National Cannabis Industry Association, 2010-2011
Member, Colorado Department of Revenue Medical Marijuana Workgroup, 2010
Coordinator, Drug Policy Project, Colorado Bar Association
Chair, Denver Marijuana Policy Review Panel, 2005
Recognition
The Best Lawyers in America©, Cannabis Law and Corporate Law, 2021-2024

Business Today, Cannabis Lawyer Awards, 2023
Chambers and Partners USA, "Cannabis Law: Western United States - USA - Nationwide (Band 1)," 2020-2022

5280 magazine, "Denver's Top Lawyers," 2015-2023

High Times 100, 2021

National Law Journal, "Cannabis Law Trailblazer," 2018

Denver Business Journal, "40 Under 40," 2018

Green Entrepreneur, "100 Cannabis Leaders," 2018

Cannabis Business Awards, "MVP Award," 2018, 2012

Law Week Colorado, "Barrister's Best," 2017

Cannabis Business Awards, "Political Industry Representative of the Year," 2017

Cannabis Business Awards, "Cannabis Business of the Year," 2014-2015

5280 Magazine, "Most Powerful People in Denver," 2014

Cannabis Business Executive, "100 Most Influential People in the Cannabis Industry," 2014

Drug Policy Alliance, "Justice Gerald Le Dain Award for Achievement in the Field of Law," 2013

Boulder Weekly, "Person of the Year Runner-up," 2012

Colorado Criminal Defense Bar, "Gideon Award," 2009

High Times, "Freedom Fighter of the Month," 2007
Publications
VS Insights
External Publications
Author, "This 4/20 celebrate that marijuana businesses and their employees are now 'essential,'" Denver Post, April 20, 2021

Co-author, "Spark the Discussion: Medical Marijuana and Contracts," Colorado Bar Association CLE Legal Connection, August 27, 2012

Co-author, "Spark the Discussion: No Love Supreme - Colorado Courts Continue to Rule Against Medical Marijuana Patients," Colorado Bar Association CLE Legal Connection, July 2, 2012

Co-author, "Spark the Discussion: Supreme Court Leaves Patients Behind," Colorado Bar Association CLE Legal Connection, June 20, 2012

Co-author, "Spark the Discussion: Hemp for Victory," Colorado Bar Association CLE Legal Connection, May 16, 2012

Author, "Spark the Discussion: When Life Gives You Lemons..." Colorado Bar Association CLE Legal Connection, April 16, 2012

Author, "Spark the Discussion: Amendment 64 and Medical Marijuana," Colorado Bar Association CLE Legal Connection, March 20, 2012

Author, "Spark the Discussion: Organize! The Rising Role of Unions in Colorado's Medical Marijuana Industry," Colorado Bar Association CLE Legal Connection, February 21, 2012

Co-author, "Brian Vicente and Josh Kappel: The Future of Medical Marijuana is Legalization," Marijuana Business Daily, December 12, 2011

Author, "Don't Punish the Medical Marijuana Patients," U.S. News & World Report, October 26, 2011
Events
Speaker, Vicente LLP, "Maryland Cannabis Business Licensing Workshop & Networking Event," Baltimore, October 16, 2023
Speaker, Vicente LLP, "Special Briefing on Cannabis Federal Scheduling Reform," Online, October 04, 2023
Moderator, 2023 NORML Denver Legal Seminar, "Distressed M & A: Discussion Regarding the Legal Landscape in 2023," Denver, June 09, 2023
Speaker, Rootwurks, "What Did 2022 Mean for Cannabis, and What Should We Expect for 2023?," Online, January 31, 2023
Speaker, Vicente Sederberg LLP, "[Webinar] New Cannabis Opportunities in the Upper Midwest: Post Election," Online, December 08, 2022
Speaker, State Bar of New Mexico 2022 Annual Meeting, "Cannabis Law – From Seed to Start Up and Beyond," Bernalillo, August 11, 2022
Speaker, Cannabis Marketing Summit, "Acquisition or Exit: Setting Your Cannabis Brand Up for Success in the Eyes of a Buyer," Denver, June 09, 2022
Speaker, Clio Cloud Legal Conference, "Advocating for Policy Change and Social Impact," Online, October 29, 2021
Speaker, MJBizCon, "Making Your Cannabis Smarter," Las Vegas, October 20, 2021
Speaker, Black Cannabis Equity Initiative, "Inside Cannabis Social Equity In New Jersey," Online, September 10, 2021
Speaker, Trailblazers: Sedona, "The Evolution of Cannabis Legalization + Client Service," Sedona, May 11, 2021
Moderator, 20/20 Growth Conferences - Cannabis Public Policy Conference, "," Denver, Online, September 23, 2020
Moderator, Mississippians for Compassionate Care, "Fundraiser to Support Mississippians for Compassionate Care," Webinar, September 15, 2020
Speaker, ADTA Annual Conference, "CBD, THC and the Crystal Ball of 2020 for Litigation & Regulation," Online, September 09, 2020
Moderator, CannaVest, "Doing Well by Doing Good: Impact Investing & Social Justice ," Boston, February 20, 2020
Presenter, Cannabis Conference 2019, "Tips for Creating a Winning License Application," Las Vegas, April 01, 2019
Presenter, MoCann BizCon & Expo, "How to Succeed in Competitive Marijuana Business Licensing," St. Louis, March 11, 2019
Presenter, Student National Cannabis Organization, "What is Cannabis Law?," Denver, October 30, 2018
Speaker, Colorado Municipal League Annual Conference, "Amendment 64 Turns Five: What Will the Next Five Years Bring?," Vail, June 22, 2018
Speaker, IROC Denver, "Cannabis and the Effect on Housing," Denver, May 23, 2018
Speaker, International Cannabis Bar Association, "Intro to MJ Business Law: Tips, Tricks, and Potholes," Denver, July 28, 2017
Presenter, NORML Key West Legal Seminar, "Marijuana Business Law 101," Key West, December 08, 2016
Speaker, International Association of Political Consultants, "The Politics of Marijuana," , November 10, 2016
Speaker, National Cannabis Industry Association, "Colorado and Washington: Successes and Challenges from the Frontier of Post-Prohibition America," Oakland, January 15, 2016
Speaker, Vail Symposium, "Colorado Marijuana Law Anniversary," Vail, January 22, 2015
Speaker, Cannabis Capital Summit, "Investing in the Marijuana Industry," Denver, May 29, 2014
Speaker, Denver University, "Domestic and International Consequences of the Drug War," Denver, April 30, 2013
Speaker, Red Rocks Community College, "Amendment 64: Where To From Here?," Denver, February 22, 2013
Speaker, Drug Policy Alliance, "Let's Talk About Marijuana," Denver, May 22, 2012
Speaker, Denver University Law Review - Marijuana at the Crossroads, "The State of Medical Marijuana Today," Denver, February 17, 2012
Speaker, The Federalist Society, "An Objective Discussion on Medical Marijuana," Denver, April 05, 2010
Speaker, Democratic National Convention, "," Denver, August 08, 2008
Speaker, NORML National Conference, "The People's Power: Initiatives in 2007/2008," Universal City, October 12, 2007