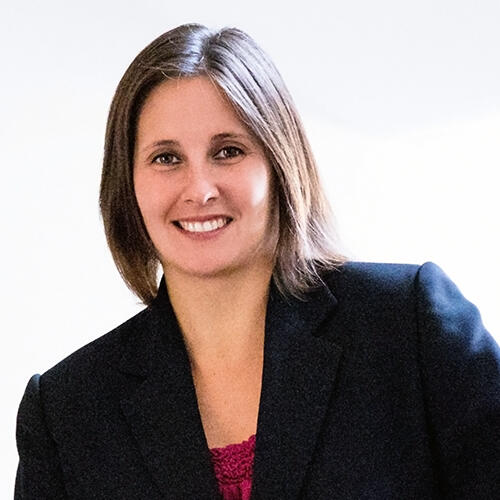 Boston
800 Boylston St.
26th Floor
Boston, MA 02199

M.S., Mental Health Counseling, Fitchburg State University
B.A., Political Science, University of Massachusetts Boston
Overview
Jen Flanagan serves as director of regulatory policy for Vicente LLP. She most recently served as one of the inaugural commissioners on the Massachusetts Cannabis Control Commission, having been appointed by Governor Charlie Baker in 2017. In this role, she directed the administration of the laws enabling consumer access to medical and adult-use cannabis in the Commonwealth. As the public health appointee to the Commission, Commissioner Flanagan played an extensive role in crafting, implementing, and executing the regulations that guided Massachusetts' nascent cannabis industry.
Prior to joining the Commission, Jen served in the Massachusetts General Court for over 13 years, including four terms as the State Senator for the Worcester and Middlesex District and two terms as the State Representative for the 4th Worcester District. She served on several committees while in office, including as vice-chairperson of the Committee on Ways and Means, chairperson of the Joint Committee on Mental Health, Substance Use and Recovery; chairperson of the Joint Committee on Children, Families and Persons with Disabilities; chairperson of the Special Senate Committee on Addiction Prevention, Treatment and Recovery Options; and vice-chair of the Joint Committee on Public Health.
Throughout her tenure in elected office, Jen became a national policy leader through her continued focus on mental health and substance abuse issues. As chair of the Senate Special Committee on Opioid Addiction in 2014, she co-authored and shepherded landmark legislation mandating health insurance coverage for substance abuse disorder treatment for up to 14 days. In her role leading the National Task Force on Mental Health and Substance Abuse Disorders of Women in Government, Jen co-authored a policy toolkit that is in use by local and state governments across the nation.
Jen has close ties to her community. She currently serves as vice-chair on the Executive Board for the RFK Community Alliance in Lancaster, Massachusetts; District Attorney Joe Early's Central Massachusetts Opioid Task Force in Worcester, MA; the Advisory Board of Trustees for the Seven Hills Foundation in Worcester, Massachusetts; the Advisory Board for Recovery Centers of America in Westminster, and the Advisory Board for the UMass Women into Leadership program at the University of Massachusetts, Amherst.
Jen received a Bachelor of Arts degree in Political Science from the University of Massachusetts Boston and a Master of Science degree in Mental Health Counseling from Fitchburg State University.
Experience
Leadership & Community Involvement
Vice-Chair, Executive Board, RFK Community Alliance

Member, District Attorney Joe Early's Central Massachusetts Opioid Task Force

Member, Advisory Board of Trustees, Seven Hills Foundation

Member, Advisory Board, Recovery Centers of America

Member, Advisory Board, UMass Women into Leadership Program, University of Massachusetts Amherst

State Senator, Worcester and Middlesex District, Massachusetts

State Representative, 4th Worcester District, Massachusetts

Vice-Chair, Committee on Ways and Means

Chair, Joint Committee on Mental Health, Substance Use and Recovery

Chair, Joint Committee on Children, Families and Persons with Disabilities

Vice-Chair, Joint Committee on Public Health

Chair, Special Senate Committee on Addiction Prevention, Treatment and Recovery Options

Chair, Senate Special Committee on Opioid Addiction

Leader, National Task Force on Mental Health and Substance Abuse Disorders of Women in Government
Publications
Insights
External Publications
Co-author, "The Evolution of the Cannabis Industry in Massachusetts," Bloomberg Law, October 2022

Author, "Cannabis reform in Mass. a win-win for industry, state," Worcester Telegram & Gazette, August 2022

Co-author, "Cannabis State Regulatory Agencies," LexisNexis Practical Guidance® Practice Note, January 2022
Events
Speaker, New England Cannabis Convention, "Creating Diversity Hiring Plans in MA," Boston, March 10, 2023
Moderator, Amica 2023 Rhode Island Legislative Planning Session, "Cannabis Legalization in Rhode Island," Online, November 30, 2022
Speaker, Vicente Sederberg LLP, "Massachusetts Cannabis Regulatory Update," Online, August 31, 2022
Speaker, New York Cannabis & Hemp Convention 2022, "From Neighboring Regulators: Local Happenings, Industry Trends, and What They Wish Licensees Knew When Starting Out," Albany, August 27, 2022
Speaker, GTI LEAP Social Equity Cannabis Licensing Series, "Operating a Cannabis Business in Connecticut," Online, April 05, 2022
Speaker, Fire Prevention Association of Massachusetts Annual Meeting, "Cannabis Legalization: Safety in Massachusetts," Plympton, March 08, 2022
Speaker, Vermont Dept. of Health Youth Cannabis Policy Conference, "Cannabis Legalization and Youth—The Massachusetts Experience," Online, September 23, 2021
Speaker, Vicente Sederberg LLP, "Cannabis Policy & Your New Jersey Community: Municipal Working Session," Webinar, June 24, 2021
Speaker, Massachusetts Lawyers Weekly, "Cannabis in Massachusetts: The Latest in Compliance, Government Relations, and Interstate Growth," Virtual, June 17, 2021
Keynote, Worcester Business Journal - The Business of Cannabis 2021, "State of the State - Worcester," Virtual, June 16, 2021