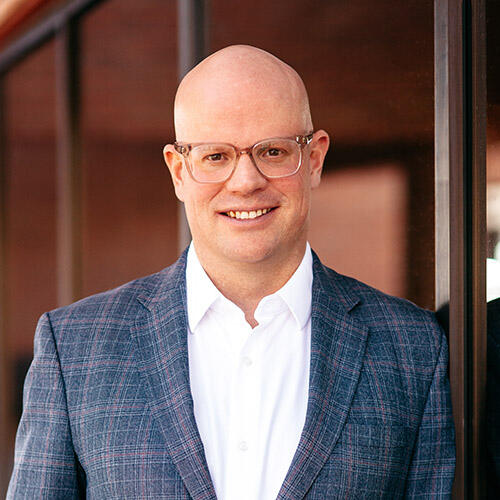 Denver
455 Sherman St.
Suite 390
Denver, CO 80203

J.D., University of Colorado Law School
B.B.A., University of San Diego
Overview
Since the inception of Colorado's state-regulated medical marijuana program in 2010, Vicente LLP Founding Partner Christian Sederberg has been representing cannabis businesses and ancillary companies on a wide range of compliance, regulatory, corporate, and legislative issues. Christian is a widely recognized leader in the cannabis industry, and in addition to his client work, he also works closely with government officials, trade associations, members of the business community, and advocates to advance thoughtful cannabis policy at the local, state, and national level.
Christian played an integral role in the passage and implementation of Colorado's historic cannabis legalization initiative in 2012, and was nominated by Gov. John Hickenlooper to represent the campaign on the Amendment 64 Implementation Task Force. He also sat on the executive committee of the Committee for Responsible Regulation, which coordinated the campaign to establish statewide excise and sales taxes on the sale of adult-use marijuana in Colorado.
Christian currently serves on the board of Colorado Leads, and he previously served as a board member for the United States Cannabis Council, Cannabis Trade Federation, and National Cannabis Industry Association. He was included in the National Law Journal's inaugural list of "Cannabis Law Trailblazers," as well as the Cannabis Business Executive 100, a list of the 100 most influential people in the global cannabis industry and policy reform movement. Since 2020, Christian has been recognized as one of the nation's top cannabis lawyers by the prestigious Chambers and Partners USA. He was named a top corporate lawyer in 2021-2024's The Best Lawyers in America© and has been included in 5280's list of "Denver's Top Lawyers" every year since 2015.
Christian was instrumental in the launch of Vicente LLP's Impact & ESG Practice Group in June 2021. This practice group provides advice and support to cannabis and hemp companies by incorporating formal Corporate Social Responsibility programs into their business models, including but not limited to sustainability and diversity, equity and inclusion.
Experience
Leadership & Community Involvement
Board Chair, U.S. Cannabis Council
Board Member, Black Cannabis Equity Initiative
Board Chair and Interim CEO, Cannabis Trade Federation
Member, Diversity, Equity & Inclusion Committee, Cannabis Trade Federation
Member, International Cannabis Bar Association
Board Member, Colorado Leads
Member, California Cannabis Industry Association
Board Member, Burnes Center on Poverty and Homelessness
Advisory Board Member, Unlimited Sciences
Advisory Board Member, Cannabis Voter Project
Board Member, Simplifya
Board Member, Apothecanna
Board Member, Beboe
Member, Colorado Bar Association
Board Member, National Cannabis Industry Association, 2014-2016
Member, Task Force on the Implementation of Amendment 64, 2012
Member, Colorado Department of Revenue Medical Marijuana Workgroup, 2010
Member, Denver Marijuana Advisory Board, 2010
Recognition
Chambers and Partners USA, "Cannabis Law: Western United States - USA - Nationwide (Band 1)," 2022

The Best Lawyers in America©, Corporate Law, 2021-2024

Chambers and Partners USA, "Cannabis Law: Western United States - USA - Nationwide (Band 2)," 2020-2021

Blizzy Magazine, "Top Social Equity Cannabis Power Player," 2020

Colorado Springs Gazette, "13 Key Colorado Capital Influencers," 2019

5280 magazine, "Denver's Top Lawyers," 2015-2023

National Law Journal, "Cannabis Law Trailblazer," 2018

Green Entrepreneur, "100 Cannabis Leaders," 2018

Cannabis Business Awards, "Political Industry Representative of the Year," 2017

The Cannabist, "Best Overall Company," 2017

Law Week Colorado, "Barrister's Best: Best Marijuana Lawyer," 2017, 2019

Cannabis Business Awards, "Cannabis Business of the Year," 2014-2015

5280 Magazine, "Most Powerful People in Denver," 2014

Denver Business Journal, Finalist, "Power Book: Denver's Top Business Newsmakers," 2014

Cannabis Business Executive, "100 Most Influential People in the Cannabis Industry," 2014

Cannabis Business Awards, "Cannabis Industry Leader," 2013

Cannabis Business Awards, "MVP," 2012
Events
Speaker, Council for Federal Cannabis Regulation, "Intoxicating Hemp Derived Cannabinoids," Online, March 30, 2023
Speaker, Inside Practice Cannalaw Summit, "The Future of Cannabis Law," Online, May 03, 2022
Speaker, Cannabis Conference 2021, "Federal Cannabis Legalization In The United States: What Will It Mean?," Las Vegas, August 25, 2021
Speaker, Colorado Law Cannabis Entrepreneurship Academy, "The Shifting Federal Landscape," Virtual, June 11, 2021
Speaker, Trailblazers: Sedona, "The Evolution of Cannabis Legalization + Client Service," Sedona, May 11, 2021
Speaker, Cannalaw Summit, "Collaboration in Cannabis Law: The roles of the boutique law firms and larger law firms, how they currently serve and will best serve the cannabis industry as legalization moves forward," Online, May 06, 2021
Keynote, Eight Capital - Seed to Scale, "Emerging Opportunities in US Cannabis," Online, May 04, 2021
Speaker, BCEI National Social Equity Seminar, "Social Equity Roundtable with 'National Cannabis Industry & Black Community Leadership'," Webinar, April 19, 2021
Speaker, Growth From Home, "The MORE Act and States' Rights," Virtual Conference, October 29, 2020
Speaker, Colorado Black Round Table & Colorado Black Chamber of Commerce, "An Investment in the Black Community is an Investment in Colorado: Social Equity and Corporate Responsibility in Colorado," Webinar, October 17, 2020
Presenter, PsyTech Tel Aviv, "Cannabis & Psychedelics: The Bridge in Regulation ," Tel Aviv, July 14, 2020
Speaker, Colorado Bar Association , "The SAFE Banking Act," Denver, February 11, 2020
Speaker, Colorado Bar Association, "CLE - The SAFE Banking Act: Will Cannabis Industry Businesses and Employees Soon Be Bank Customers?," Denver, November 20, 2019
Speaker, 2019 US District Court Conference, "Federal Issues Related to Legalized Marijuana," Las Vegas, May 16, 2019
Speaker, TEDxMileHigh, "Colorado's Cannabis Conversation," Denver, April 18, 2018
Speaker, Young Presidents Organization Annual Retreat, "The Cannabis industry- History, and What the Future Brings," , October 06, 2017
Speaker, National Council of Legislators from Gaming States (NCLGS), "Committee on Casinos: Casinos & Marijuana: Legal and Policy Issues," Denver, June 09, 2017
Speaker, Colorado Counties Inc. Foundation Conference, "Understanding and Updating Marijuana's Impact on Your County," Denver, June 07, 2017
Speaker, CLE Committee Spring Symposium, "The Connection Between Marijuana and Real Estate Law," Denver, April 21, 2017
Speaker, Colorado Counties, Inc. Foundation Conference, "Emerging Marijuana Policy Issues," Denver, June 08, 2016
Speaker, AICPA/AAML National Conference on Divorce, "Divorce and Valuation Issues for Cannabis Business Owners," New Orleans, May 20, 2016
Speaker, The Cannabis Science & Policy Summit, "The Movement & Lobby: Ideology & Industry in the Legalization Process," New York, April 18, 2016
Speaker, Liberty on the Rocks, "Could Marijuana Open the Door to End the Drug War?," Denver, March 02, 2016
Presenter, American College of Medical Toxicology: A Legal 'PotPourri', "Overview of Recreational & Medical Marijuana Laws," Denver, December 09, 2015
Presenter, Colorado Bar Association CLE: The Colorado Marijuana Industry, "The State of the Law: Coats v. Dish Network and Beyond," Denver, November 05, 2015
Presenter, Rocky Mountain Young Professional's Summit, "Crafting Your Colorado," Denver, October 16, 2015
Presenter, Colorado Bar Association CLE: 2015 Consumer Bankruptcy Update, "Marijuana Issues (for Debtors and Creditors) in Bankruptcy Cases," Denver, June 26, 2015
Speaker, Colorado Bar Association CLE: Marijuana- The Colorado Model, "Banking Now and Tomorrow," Denver, November 19, 2014
Speaker, Colorado Bar Association CLE: Business Law Institute, "The Marijuana Biz: Where No Business Has Gone Before," Denver, October 16, 2013